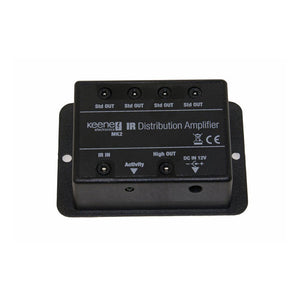 Keene IR Distribution Amp Kit (excluding IR Receiver) IRBKIT
The classic in-cabinet solution that puts your remote back in control and routes IR commands to wherever they are needed. The IRBKIT system makes it easy to control all your AV gear when its hidden away inside a cabinet or even in another room.

How does it work?
The IRBKIT black body is the part that does all the work. Into you this you plug an IR Receiver (something to aim your remote at) and an IR Emitter (something that will control your equipment. Place the IR Receiver wherever you find convenient and then hide the rest away inside your cabinet. 
The IRBKIT is the central building block and it can be added to by connecting different types of receivers and extra emitters as required. It is available in a number of configurations: This model is the:
IRBKIT Base model Excluding IR Receiver

Kit Contents 
1 x IRBKIT IR distribution amplifier
1 x PSU with 3 pin UK plug
1 x IRBW2 close range dual IR emitter wand
1 x Instruction sheet
Optional accessories
IRFMR - Fascia Mount IR Receiver
IRPMR - Panel Mount IR Receiver (black)
IRPMRW - Panel Mount IR Receiver (white)
IRPMRB - Panel Mount IR Receiver (brass)
IRPMRC - Panel Mount IR Receiver (chrome)   
IRBW1 - IR Single Output Standard Emitter Wand
IRBW2 - IR Dual Output Standard Emitter Wand
KA175 - 3.5mm Stereo Jack Plug / Socket To CAT5 Adaptors
 Have a look at the instruction sheet:
Helpful installation info
IR receivers and Emitter connection diagrams (Acrobat pdf file)
---
We Also Recommend