Keene Electronics Two Output IP Ethernet Mains Switch With Ping Monitoring IPMSW1
The IPMSW1 is an IP controllable mains power switch. It has two independent mains outlets that can be monitored and controlled using any web browser or smart phone.
 Two Output IP Ethernet Mains Power Switch
* Simple browser button based on / off control.

* Full browser based set-up and timer configuration

* 3 timer events per switch with daily weekly or monthly repeats
* Automatically power cycle each output on ping fail
* Outputs can switch up to 10A (total combined output)
* Worldwide 110~250v AC compatible

It has adjustable power fail re-start options allow each switch to delay up to 255 seconds before switching on. Ideal for remote re-start of systems that require 2 stage start ups.

During each timer event the switch can be set to either on or off.

The switch has its own IP address, so can be controlled via internet using port forwarding.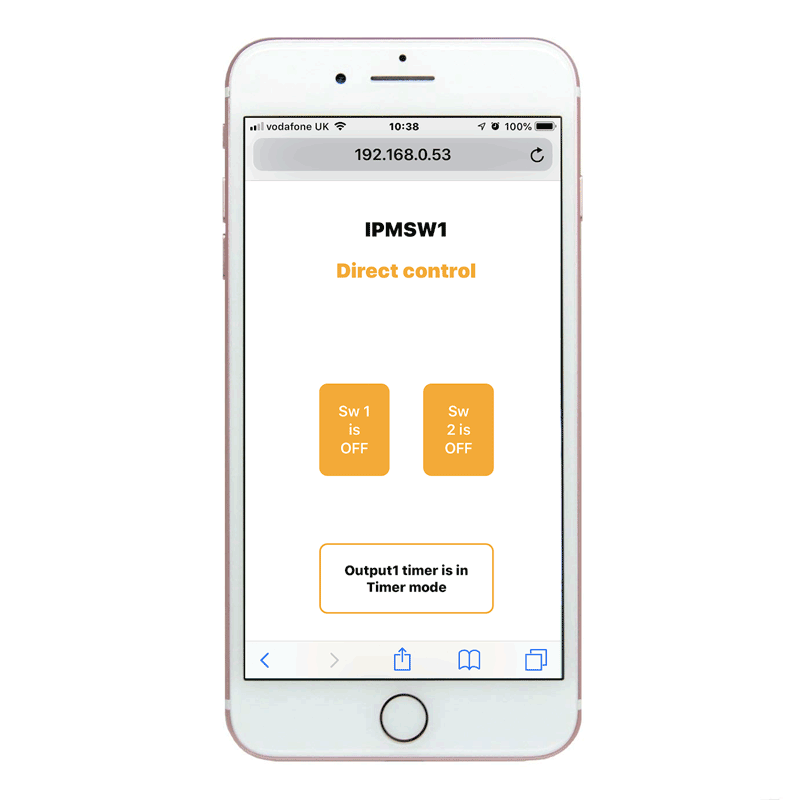 * Ping feature can be used to monitor an IP address and on failed reply can power cycle or switch each output on or off independently.

* Built in support for DDNS

* Control with Amazon Echo/Echo Dot

* Control4 drivers available

* Manual override button for each switch

* Optional Infrared Control for each switch (requires additional part IPMSW1PACK)

* Internal Real Time Clock IC with 5 year battery backup (Optionally use internet time servers to set internal clock)

Unit dimensions: L 185mm x W 136mm x H 48mm

Cables included:
1 x IEC female to UK mains plug
1 x IEC male to UK mains socket 
1 x IEC male to female

Use Amazon Alexa for Voice Control
Details here (Acrobat pdf file)
You can also use Alexa with the HA Bridge software, please see our guide here (Acrobat pdf file)
You can download the short form instruction manual
Have a look at the on-line instructions:
(note - will open in a new window)

The ping feature was added to firmware version 2.02 and infrared control capability was added in firmware version 2.05. If you purchased an IPMSW1 prior to this date and require the above features please contact us to discuss an upgrade.

DOWNLOADS
The following zip file contains:
Latest Computer software program (release 18/10/2012)
API details
The IPMSW1 Java utility can be downloaded here
Control 4 Drivers are available Control4
---
We Also Recommend