Keene IR Anywhere IR Over IP Module (128 Code) KIRA128
This model has now been discontinued and has been replaced with the KIRAONE.
Part of the Keene IR Anywhere family, the KIRA128 enables IR commands to be sent via local IP network or internet!

The KIRA128 can act as an IR receiver, and will convert the received signal to packet data and send that data to a predetermined IP address (usually another IR Anywhere module). The receiving module will then decode the data and re-transmit the IR as originally received. The IR Anywhere modules can be software configured as either a receiver, a target or stand-alone. They will operate via LAN, and also via WAN assuming firewall and routers are correctly configured.
The KIRA128 is also capable of storing up to 128 IR codes in local memory. These codes can then be accessed and triggered by by any device with web browser capability from local network or internet. For example this image shows a phone browsing one the internal web pages of stored IR commands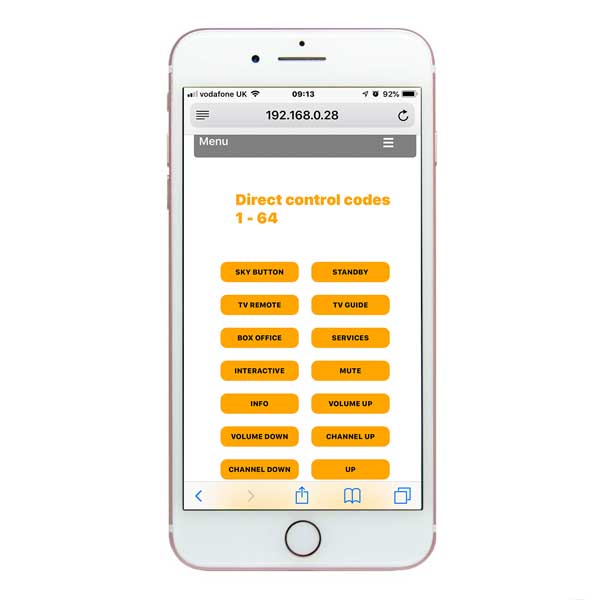 Note, this is a web page and not an "app" and so can be accessed by any smart phone, PDA or other device with web browser capability.
The KIRA128 can be can be software configured as either a receiver, a target or stand-alone. Once correctly configured, one target can be used as a local IR emitter for multiple remote receivers. The target can be another IR Anywhere (KIRAM or KIRA128) or the IR Commander Matrix (IRCM).

The IR Anywhere modules are compatible with the 36 ~ 40K IR signals used by the vast majority of domestic AV equipment. A wide band IR receiver can also be used to extend the range to 20KHz ~ 120KHz if required.

The IR inputs and outputs are fully compatible with the existing Keene IR Distribution range so other styles of receivers and emitter wands can easily be incorporated.

Control IR equipment via local network or anywhere in the world via internet

Can be combined with IR distribution system for large installations

One-to-one or many-to-one control

Built in Dynamic DNS support

DHCP plug and play for LAN

Can be used as a receiver for the IR Commander Matrix

**Use Amazon Alexa Echo & Echo Dot for Voice Control**
This is very easy to configure, please have a look at the details here (Acrobat pdf file)
You can also use Alexa with the HA Bridge software, please see our guide here (Acrobat pdf file)

Control 4 Drivers are now available Control4

Please note that the modules are NOT compatible with IRDA based code please contact us if unsure.

You can download the short form instruction manual
You can access the full instruction manual as a web page


(note - will open in a new window)

Other apps and 3rd party software
The Keene KIRA systems can be used with a wide range of other applications including Demopad, please follow the link to see the current list.


(note - will open in a new window)

Kit Contents:
1 x KIRA 128 module
1 x KT9USB power cable
1 x IRBW1 close range IR emitter wands

DOWNLOADS
The following zip file contains:
Latest firmware
Latest Java Utility program
API details, example Shadowfiles
 The IR Anyhere module is also available without the 128 code internal storage as the KIRAM
---
We Also Recommend